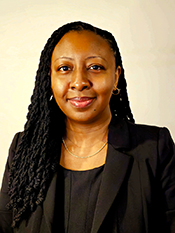 Nicole P. Smith has dedicated over a decade of her professional career to the September 11th  Victim Compensation Fund (VCF) because of the direct and positive impact it has on the American public. Since the Fund reopened in October 2011, she has served in various leadership roles touching most aspects of the program, including supervision of the public-facing Helpline, managing the team responsible for all outgoing correspondence, supervising the eligibility claim review team, developing a training program for new staff, and coordinating cross-team leadership efforts. Nicole joined the United States Department of Justice as an Attorney Advisor to focus on economic loss claim review in 2015. The following year, the Special Master tapped her to lead the team of legal professionals dedicated to reviewing FDNY and NYPD first responder claims.
Nicole has a deep understanding of VCF policy, and her comprehensive knowledge of the program overall is rooted in her longevity and progress within the Fund. As a member of the VCF Outreach Team, Nicole has represented the VCF during in-person information sessions, training sessions, and virtual webinars alike. She has served as a subject matter expert for the appeals process, and as a Hearing Officer presiding over in-person and virtual eligibility and compensation appeal hearings. In October 2020, Nicole was named Associate Special Master, a leadership team role created to provide additional operational and policy support to the Special Master.  In this role, Nicole provided oversight to streamline productivity across the team, and ensure that claims continue to move as quickly and efficiently as possible. In 2022, she received the U.S. Department of Justice, Civil Division Special Commendation Award in recognition of her exemplary service.
Prior to joining the VCF, Nicole worked in project management and began her legal career at a small private practice. She graduated from the Howard University School of Law and received her undergraduate degree cum laude from Howard University. Born and raised in Buffalo, New York, Nicole is a member of the New York State Bar and District of Columbia Bar. She now calls the Washington, DC area home.