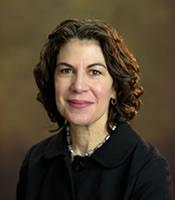 Stefanie Langsam has over 25 years of broad-based management and leadership experience in both administrative and operations environments, with a focus on customer relationship management and citizen service delivery. She has spent over 20 years of her career working with government clients.
Stefanie worked on the original VCF from January 2002 until it closed in 2004, and considers working with the original fund to be her most personally and professionally rewarding experience. Passionate about the VCF's mission, Stefanie was quick to return to DOJ in 2011 as a consultant to support the reopened VCF (VCF2).
Starting in 2011, Stefanie played an invaluable role "behind the scenes," holding a key position on the leadership team on operational, communications, and policy aspects of the VCF.  She had a lead role in the implementation of the changes required by the December 2015 reauthorization, and in June of 2016, Stefanie became a VCF Deputy Special Master, joining the Department of Justice (DOJ) as a member of the Senior Executive Service.  In this role, she continues with those responsibilities, and is also directly in charge of all day-to-day operations.  Following the VCF Permanent Authorization in July 2019, Stefanie has also focused on the changes needed to transform the VCF into a now-permanent program.
In 2020, Stefanie received the Attorney General's Award for Distinguished Service.  She was also selected by Federal Computer Week (FCW) as a 2020 Federal 100 winner, which recognizes leaders from throughout the Federal IT community who had the greatest impact in 2019.   
Prior to joining DOJ, Stefanie owned her own consulting firm for ten years, which she launched following a successful career at IBM Business Consulting Services (formerly PriceWaterhouseCoopers and Price Waterhouse LLP).  Stefanie holds an MBA from the University of Maryland Robert H. Smith School of Business.